Craft your ultimate weapon of destruction in this VR followup to 2018's MOTHERGUNSHIP
MOTHERGUNSHIP: FORGE, a VR followup to the indie hit bullet-hell FPS roguelite is coming to Meta Quest 2 and Steam VR in June 2022.
A massive alien fleet is on the verge of destroying the world, and you are the only one that can stop it. Grab some gun parts, recruit! Design your weapon, then destroy the alien armada. Take down ships by blasting away alien machines, robotic pests, and intimidating bosses that intend to decimate you and all of humanity.
Earn gun parts or other rewards, survive the alien arsenal, continuously upgrade your armaments, and face off against a mother of a boss. Three bosses, each on a ship filled with challenges, stand between you and the fate of the world.
FORGE YOUR MASTERPIECE
Think on your feet (literally) and channel your inner mad scientist to craft the weapon for your playstyle. Like speed and explosive power? Try combining the Shrapnel Cannon and Coffee ammo. Enjoy a close-quarters brawl? Look for the Superfist cap to add punching projectiles to your skillset.
Connectors are the crown-jewel, allowing more attachments and sometimes boosting stats so players can create truly insane weapons. Barrels determine the type of ammunition you fire, with options ranging from bullets and grenades to lasers and explosive pizzas. Slap on ammo canisters to expand your firepower and add caps for fun finishing touches that can twist gameplay and add surprising new abilities. 
In VR, easily pick up parts and snap them in place. Wanna move things around? Disassemble your weapon, then rebuild in between rounds so you're ready for anything those aliens throw your way. With over a trillion possible weapon combinations, no playthrough feels the same.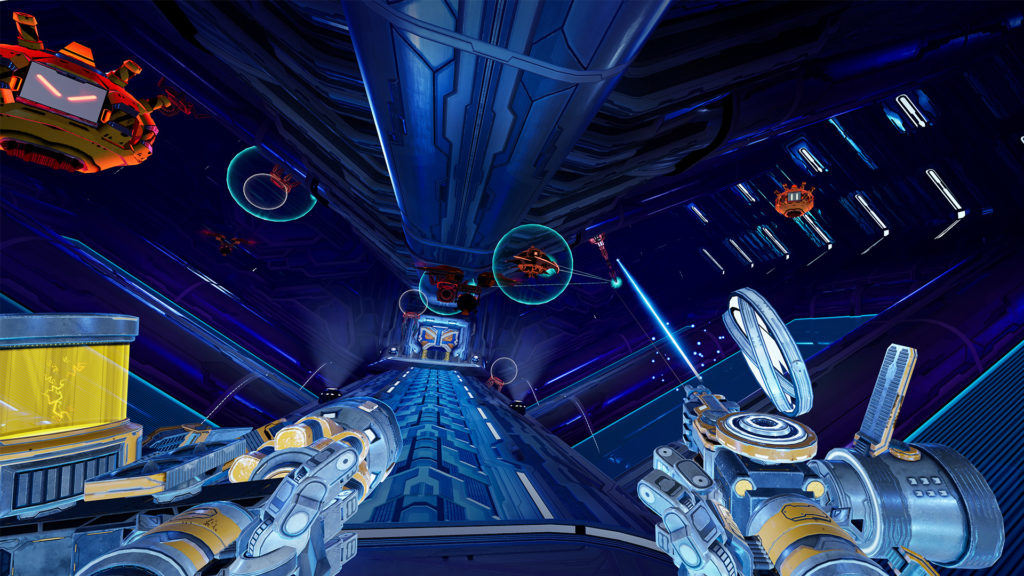 AN IMMERSIVE VR EXPERIENCE 
This first-person experience gets a little more personal in VR. Hand construct your weapon of doom, then point it at your enemies and pull that trigger.  Dodge and weave between the bullets, swing your fist to punch the mobs, lift your arm to block with your shield!  With a player defined area, your alien battle experience scales to fit the space you're standing in.
MOTHERGUNSHIP: FORGE offers accessibility modes to support all types of players. Free movement mode gives the player the option to move their character with the controller, while seated mode employs free movement and other capabilities, so the game can be played stationary. Complete accessibility options can be found in the game's settings.
MOTHERGUNSHIP: FORGE is available June 2022 in the Oculus Quest Store and on Steam. Now get out there, recruit; the world needs you. 
For more information on MOTHERGUNSHIP: FORGE and other titles from Terrible Posture Games, follow us on Twitter, Facebook or join our community on Discord.